Finnish artificial intelligence reducing carbon footprint and energy consumption finds a new owner to continue its internationalisation
Current topics
/
Thursday 27.05.2021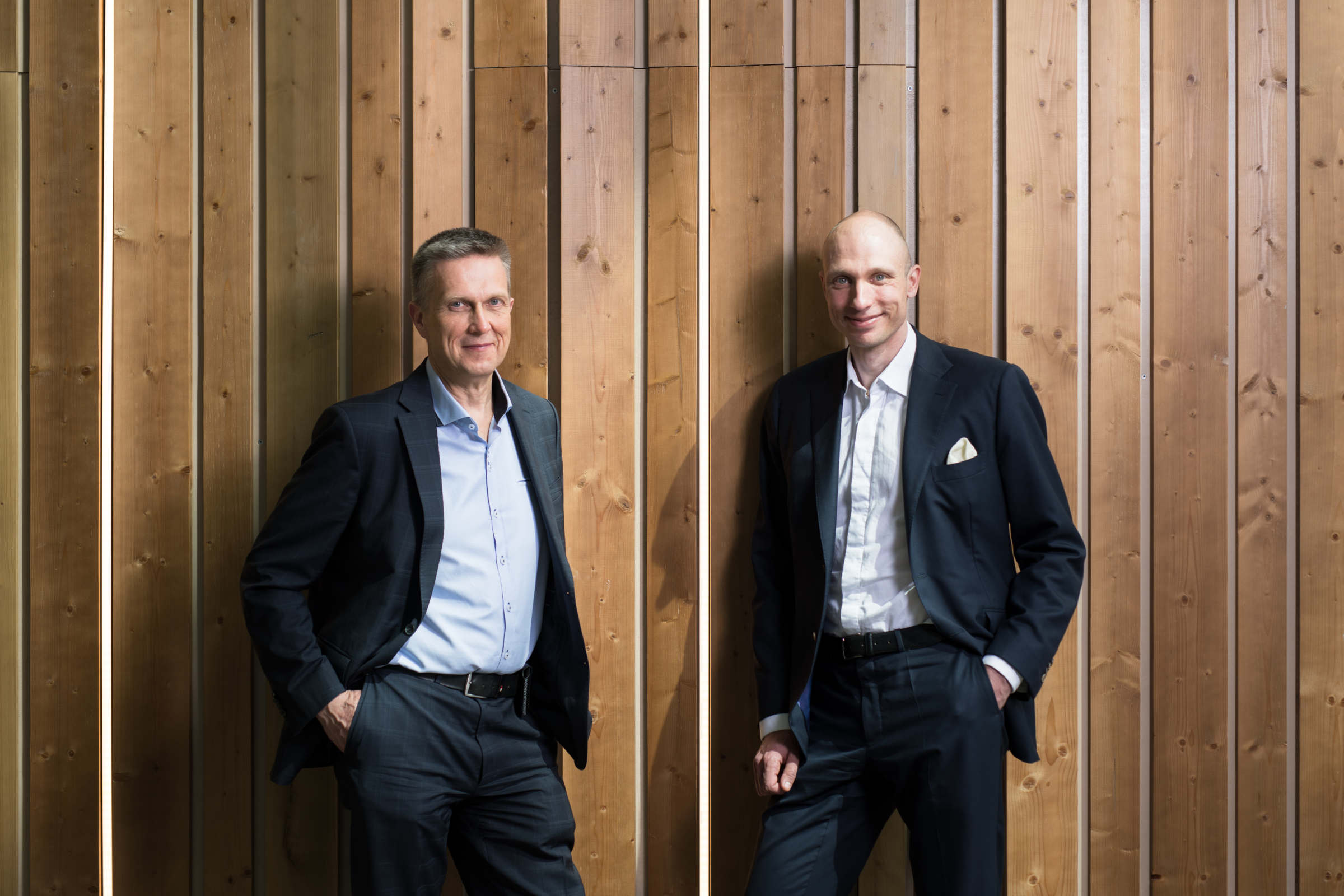 With support of private equity investor Vaaka Partners, Finnish EnerKey has succeeded in building a market-leading SaaS solution, helping property owners significantly to reduce their emissions and environmental impact. Intelligent software based on consumption data reveals buildings' environmental impact and optimizes the use of electricity and heat. Vaaka Partners started EnerKey's internationalisation in the Nordics and is now passing on the responsibility to Danish EG A/S for the next growth step.
Climate change is forcing every business and property owner to look for new ways to achieve carbon neutrality. In sustainability, energy is one of the core topics – the future energy usage is not only about renewable energy sources, but also services that help companies to use less resources and produce less waste. To meet this need, EnerKey has created already broadly adapted software – almost 60 of Finland's 100 largest companies are using EnerKey to reduce their facilities' environmental footprint. EnerKey, which has in a couple of years become one of the market leaders in Finland and in the Nordics, will continue its internationalization with EG A/S, the new majority owner.
- Companies and organizations all search for ways to take positive climate action and comply with the forthcoming EU-regulation on non-financial disclosure, including the reporting on key figures on consumption of power, water, and other utilities. We want to ease that burden, making it easier for our customers to implement their climate action plans and report on the effect of them. With the addition of EnerKey, EG will be able to support and strengthen the offerings for our customers in their strides towards becoming increasingly sustainable and carbon neutral, says CEO Mikkel Bardram, EG A/S.
Artificial intelligence finds energy and emission saving potentials in just seconds
The key to EnerKey's success lies in the combination of data and artificial intelligence that makes the environmental impacts measurable and visible. EnerKey´s artificial intelligence feature, called Ines, not only finds and locates problems. Ines benchmarks the use of resources and energy consumption with other similar types of buildings, utilizing data from over 20,000 facilities. Ines also makes concrete proposals for action to minimize energy consumption.
- It is quite typical that Ines finds potential to optimise building´s ventilation time programs – there is no need for the ventilation run at full power outside the building's operating hours. Other typical saving potentials are inefficiencies and leaks related to heating or cooling, describes Ilari Anttila, CEO of EnerKey.
EnerKey not only provides less emissions, but also brings significant monetary savings. Artificial intelligence saves the time needed to analyse the environmental impact with human resources as it finds unnecessary energy guzzlers just in seconds.
- Biggest inefficiencies in resource consumption happen if consumption data is not systematically used to guide the decision making. In addition, annual consumption is cumulated over time. Correspondingly, significant savings can be achieved through systematic work. For example, Kesko PLC has succeeded in achieving annual savings of 5 million euros with our help and we are in a significant position helping them achieve their goal of carbon neutrality by 2025, Anttila says.
Further savings arise from the fact that EnerKey's customers do not have to make expensive software investments, as EnerKey operates with Software as a Service (SaaS) model.
EnerKey is growing and the first doors to the international market have been opened
Vaaka Partners, which has fuelled EnerKey's growth, feels that one phase has now been completed – the SaaS business has been successfully scaled and the first doors to the international market have been opened.
- The journey with EnerKey has been rewarding in many ways, and not least because EnerKey is so strongly tied to sustainability, which is an essential part of our investment strategy. We conduct a sustainability audit before each new investment and help companies make their ESG actions measurable. EnerKey has been a great example for the entire Vaaka community by setting high standards, reflects partner Tuomas Siponen from Vaaka Partners.
- Vaaka in return has provided us excellent support in the enormous transformation that we have achieved together with the whole EnerKey staff in recent years. The management sparring from Vaaka and Board of Directors has been the best I have experienced in my whole career. Through the collaboration, EnerKey has grown into a unique, scalable SaaS provider that lives and breathes its values, just like Vaaka. Now we are ready to take the next step as the European industry leader with our new owner, commends Anttila.
A particularly important discovery on the joint journey has been the decision to partner up with energy companies and utilities, who then offer services based on EnerKey's SaaS platform to their own end customers. The start looks promising, as order volumes for recurring services have already tripled in the first quarter of this year.
Growth is pursued by joining the forces with local utilities and energy companies who sit on a huge amount of data that EnerKey can make transparent and useful also to the end customer. As a result, everyone wins: the energy company can better serve its customers, the customer can reduce emissions and unlock savings – and EnerKey, originally from Jyväskylä, can grow into an international success story. The future looks promising.
- We have received several inquiries from utilities and energy companies across Europe, which is a great signal that there is a real demand for our services! We are in discussions with over 50 energy companies, our platform is piloted by a dozen potential partners and partnership agreements have already been reached with six energy companies. All in all, there is indeed a strong pull from the international market. And that suits us well – as we want to become the European industry leader number one, Ilari Anttila concludes.
EG and the owner of EnerKey, Vaaka Partners, have signed an agreement regarding EG's acquisition of the shares in EnerKey. Completion of the transaction will take place on 2 June 2021.
EnerKey SaaS factbox:
Artificial intelligence Ines is scanning continuously over 100,000 measuring points to find potential savings from consumption data.
Total of 140,000 measuring points managed in EnerKey SaaS.
20,000 properties
1,500 customers
Systematic approach to properties´ energy management with actual consumption data can lead up to 30% savings.
Turnover €6.2m (2020)
65 energy and software professionals
More information:

Ilari Anttila, CEO, EnerKey, ilari.anttila@enerkey.com, phone +358 40 526 3133
Tuomas Siponen, Partner, Vaaka Partners, tuomas.siponen@vaakapartners.fi, phone +358 50 571 3767
Johnny Iversen, EVP, EG Public, joika@eg.dk, phone +45 2088 7366
EnerKey briefly:
EnerKey Sustainability & Energy Management System (SEMS) is one of the leading cloud-native SaaS solutions in the Nordic countries, for enterprises to manage resource data, energy consumption and sustainability. It holds ISO 50001 and ISO 14001 certification. The sustainability features include emissions reporting, waste reporting, traffic fuel monitoring and indoor air quality. EnerKey SEMS is used by more than 1,500 customers. EnerKey manages resource data generated by more than 140,000 measurement points across 20,000 properties. Powered by EnerKey is a white label platform solution for energy companies, utilities and SaaS providers, who want to offer EnerKey´s market-leading tools to their end-customers, branded with their own logo and visual appearance.
https://www.enerkey.com/en/
Vaaka Partners briefly:
Vaaka Partners is an ambitious private equity company that helps medium-sized Finnish companies to become business champions. Current Vaaka champions are e.g. AINS Group, Framery, Jungle Juice Bar, Lyyti and Molok Oy. The company is responsible for approximately EUR 0.4 billion of private equity funds. Vaaka's approach combines strategic and operational expertise with trust-based collaboration and new growth opportunities. The largest investors in Vaaka funds are Europe's leading pension funds.
https://www.vaakapartners.fi/en
EG briefly:
EG delivers vertical software that helps our customers move their businesses further. EG has more than 1,500 employees, working primarily from locations in Scandinavia and a shared development center in Poland.  EG develops, delivers and serves its own software to 21,000+ customers in the private and public sectors.
https://global.eg.dk/